Free 1 hour consultation
We also specialise in Logo design.

- At Acorn Design we custom design a logo to suit your business needs.
- Working from a free 1 hour briefing ensures your logo is right for your market and priced to suit your business.

Email or call us today and we'll explain how our Acorn Logo process can assist you to stay in control of your logo design budget during the development process.

Ask for full details of our Logo Offer today!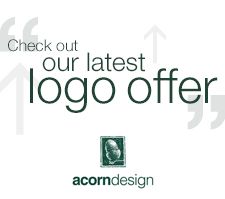 Sixteen things you need to know
… there are sixteen things you need to know and consider before starting any design or branding project.


Call us on 9381 3113 today we'll be delighted to catch up for a one hour obligation-free consultation.


NOMs, IERs, IPOs or Annual Reports.
Acorn Design can set, print and mail all your corporate documents.
With an emphasis on client service, project management, security and integrity, Acorn Design will manage your job from beginning to final mailing, including design solutions and barcoding.
 
• You don't need to use a Share Registry, to do your barcoding or mailing.
• Choosing A5 NOMs is more cost effective, for printing and mailing!
Full service Advertising, Media Planning, Placement and Online Marketing
Obligation Free Quote
If you would like a competitive quote, please call us on 9381 3113 or email us on mail(at)acorndesign.com.au, we'll be delight to quote on any of your visual communication or branding requirements!